Strawberries Savannah With Chocolate Crepes
PaulaG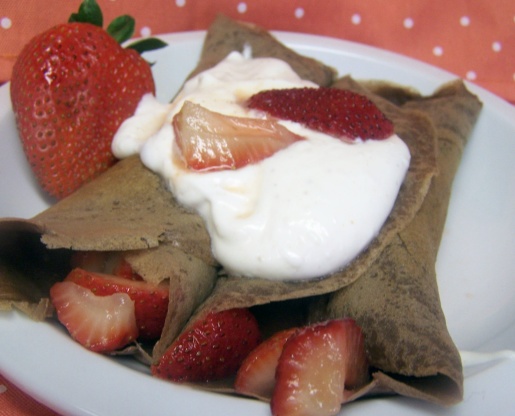 These make an elegant breakfast treat or can be served for dessert. I personally prefer to serve them as a dessert. I have included a quick dessert crepe recipe as well. The crepe recipe will yield about 18 to 22 crepes. They are great to allow them to cool down, place wax paper between them, stack and place in ziplock bag in the freezer. This recipe comes for a 1976 vintage Crepe Cookery cookbook.

I thought these were very good. I made as prescribed except I added bananas at the last minute to the strawberries because I didn't think there would be enough (some of my strawberries went bad). A couple of things I would change - we did not like the cream mixture because of the mace. I've never had it before and it seemed out of place or maybe we just don't like that spice. I just made whipping cream and sugar with a dab of sour cream to use on top. I would also like the directions in a different order. I skimmed and saw that the strawberries needed to be regrigerated, so I made those and then a little while later started to make the crepes and then saw on the very last step that they also need to be refrigerated. I would like to see everything that needs to be refrigerated at the beginning and then how to assemble at the end. That would have eliminated this little mix-up. I just refrigerated for less time and it was fine.
Mix the berries, 1/3 cup powdered sugar and orange juice or liqueur in a glass bowl.
Cover and refrigerate several hours.
In a small chilled bowl, combine the heavy cream, sour cream, mace and remaining 2 tablespoons powdered sugar.
Beat mixture until it begins to thicken.
Spoon strawberries and juice onto cooled, cooked crepes, fold over.
Top with whipped cream.
For the crepes, combine ingredients in blender jar.
Blend for about 1 minute, scrape down sides with rubber spatula and blend for another 15 seconds or until smooth.
Refrigerate batter for at least 1 hour.
Cook on preheated crepe pan as per manufacturers instructions.