Strawberries Dusted With Cardamom Sugar
teresas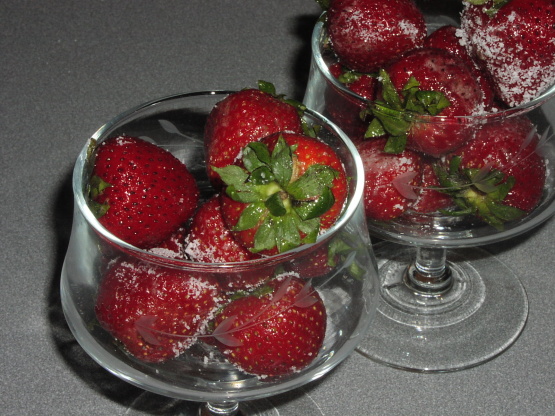 Ground cardamom is a clever addition to the sugar in this simple recipe. From allrecipes.oom.

Delicious! What a unique flavor. I have never tried cardamon before and sure enough there is nothing you can use to substitute it with. I found it in bulk and only purchased a small amount. I cut this down to serve 2 and got a perfect amount of sugar mixture. I did use splenda in place of the sugar. I used the orange juice and can't wait to try it with Grand Marnier. This is a keeper. Thanks for posting. :)
Whisk the sugar and cardamom in small bowl to blend. (This can be made 3 days ahead. Store mixture in a covered container at room temperature.).
Pour orange juice into large bowl. Add strawberries and toss to coat. Spread cardamom sugar on large platter or baking sheet. Using slotted spoon and working in batches, transfer the strawberries to platter with cardamom sugar. Roll in sugar to coat well. Divide strawberries among 6 wineglasses. Pour any remaining orange juice from bowl over berries. (Can be made 2 hours ahead. Cover; chill.).