Strawberries & Cream Oatmeal (Porridge)
loof751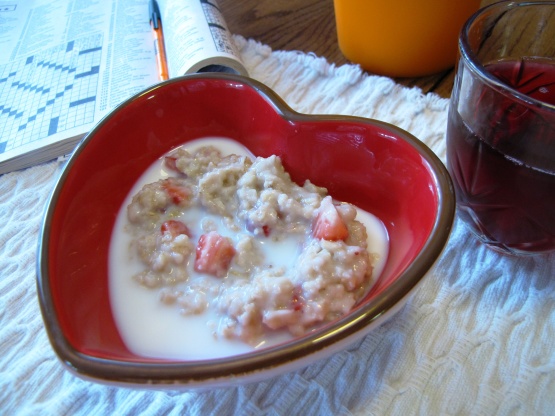 I made this for breakfast this morning using Vanilla Coffee Creamer as the creamer, quite a yummy combo I thought.

Somehow, I have an entire can of coffee creamer... I don't even drink coffee!! So I set out to find recipes that called for pwodered creamer. I used old-fashioned oats, so I increased the cooking time a bit; and thawed frozen strawberries. Maybe it's because it wasn't French vanilla flavored, but I didn't notice that the creamer made this taste any different that regular oatmeal. It was still good, it just didn't CHANGE it any. I microwaved two strawberries too in step three, and sprinkled the third over that, but then decided it needed more sweetness so I added a couple of packets of Splenda, mixed it all up, and microwaved it for another twenty seconds. I didn't bother with the yogurt, either. Thanks for posting!
Combine water, oats & creamer.
Microwace for 1 minute and then stir to combine.
If you want your srawberries warmed through add them now and cook for a further 30 seconds.
Serve with strawberries (if you didn't already add them) & vanilla yoghurt.