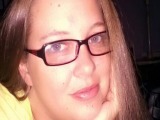 Another one of my nanas recipes. She loved doing refrigerated desserts. This one is wonderful if you are a strawberry lover like me. Enjoy!!!!
Directions
In large bowl combine condensed milk and water.
Add pudding mix, beat well and chill five minutes.
Fold in cool whip.
Spoon in two cups of the pudding mix into a four quart glass serving bowl.
Top the mixture with 1/2 of the pound cake cubes, strawberries and preserves.
Repeat layering ending with pudding.
Garnish wigh strawberries and chill thoroughly.
Most Helpful
I made this dessert for a party. It's simply delicious and looked beautiful in my trifle bowl. I had enough pudding mixture and cake (I used two) to make an additional, but smaller bowl. For the second bowl I used a frozen berry mixture,with raspberries,blackberries and blueberries. I liked this one even better, but the next time I will use seedless raspberry preserves in stead of the strawberry. The trifle served 12...generously! Thanks, Bonnie for this recipe!!!
I have a very similar recipe (Mandarin Orange Trifle but I've made it with strawberries & other fruits) & it is DEEEELICIOUS!!!! There's never a bite left... & I've given the recipe out many times!!!