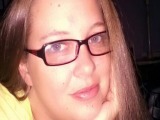 Another one of my nanas recipes. She loved doing refrigerated desserts. This one is wonderful if you are a strawberry lover like me. Enjoy!!!!
Directions
In large bowl combine condensed milk and water.
Add pudding mix, beat well and chill five minutes.
Fold in cool whip.
Spoon in two cups of the pudding mix into a four quart glass serving bowl.
Top the mixture with 1/2 of the pound cake cubes, strawberries and preserves.
Repeat layering ending with pudding.
Garnish wigh strawberries and chill thoroughly.