Bev I Am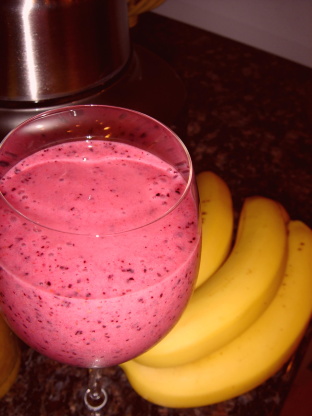 A Smoothy for the Strawberrians. :) Good for a small brunch beverage, or on a hot day!

Thank you so much! I found a great sale on produce on Monday and ended up with 13 different fruits in my fridge, many of which were extremely ripe today. I didn't even measure the amounts, I threw in the rest of my strawberries, a whole box of blueberries, a ripe banana and about 3/4 of a pineapple. This smoothie tastes great and is healthy to boot. Gracias
In a blender, combine strawberries, blueberries, banana, and pineapple and blend until smooth.
Add the yogurt and ice cubes and blend until its a nice liquid.
Pour into glasses, and garnish with the halved strawberries. Sprinkle with sugar if desired.
Enjoy!