Strange yet Wonderful Couscous Salad
Prep 10 mins
Cook 15 mins

The list of ingredients may sound odd but the resulting blend of flavours is really amazing. I'd forgotten about this until I went through my old recipe box and I'm so glad I did. But, probably not for kids. I got this from a magazine a long time ago, can't remember which one.
Directions
In a small saucepan bring water to a boil with raisins, salt and 1 Tbsp oil. Stir in couscous, cover, and take off heat. Let stand for 5 minutes then fluff with a fork and transfer to a bowl to cool.
In a small skillet saute the onion and garlic in 2 Tbsp oil over medium low heat until pale golden and soft.
Stir onion mixture into the couscous along with the remaining ingredients including the remaining 1 Tbsp olive oil. Salt and pepper to taste.
Serve at room temperature.
This can be made a day ahead, covered and chilled. Bring to room temperature before serving.
Guessing at the servings.
Most Helpful
At first I didn't think this would taste strange at all but then I took a bite and decided that strange yet wonderful were the right adjectives to use for this recipe after all. I made several low fat adjustments (about 1 tablespoon olive oil for the onions and garlic, no oil otherwise, and fewer pine nuts and olives) but the taste still came through quite well. If you are not worried about the calories, I would add everything as listed. I didn't find the capers overwhelming myself and I added a bit more red wine vinegar. BF also liked this a lot. Fast and easy recipe too! Thanks!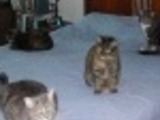 This is an interesting salad. Every bite had a burst of intense and different flavor. I especially enjoyed the contrasts between sweet and sour, soft and cruncy. I found the capers to be a bit overwhelming;I would probably omit them next time. This would be nice in the summer with grilled chicken that was prepared with few flavorings so the flavors in the salad could shine through. Thanks for a culinary adventure!

Wonderful is a good name for this salad. The sweet raisins and red peppers contrasted nicely with the green olives. I didn't have pine nuts so I toasted some walnuts and that gave it a nice crunch. This would be a great recipe to take to a potluck.