Strammer Max - German Warm Sandwich
BecR2400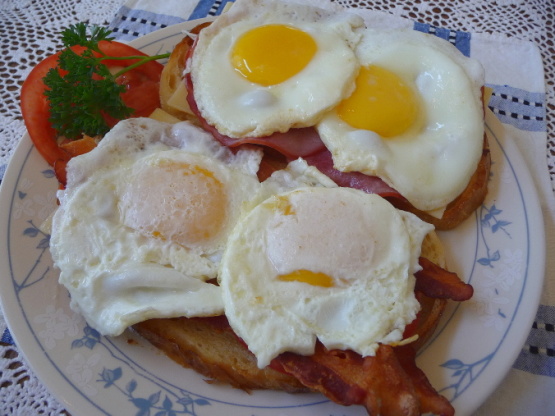 Strammer Max means stiff or tight Max which is Saxon slang and means exactly what you think it means. Traditionally it's a butter fried slice of bread with ham and a fried egg. My MIL uses to make this version every time she wants to make a quick dinner.

Made for FYC tag game! Had this for "breakfast for dinner" tonight. Used the bacon grease to fry the eggs in. Enjoyed with shredded hash browns. Very delicious open-faced "sandwich". We really enjoyed this tonight. Thanks for sharing!
Toast and butter bread and spread with bacon and sliced tomato while heating a lightly oiled skillet.
Fry the egg to desired doneness, season with pepper and top with grated swiss cheese.
As soon as cheese has melted, transfer the fried egg on top of the sandwich, serve immediately.
Enjoy!