Straight from Freezer to the Oven Chicken Thighs With Rosemary
Beth W.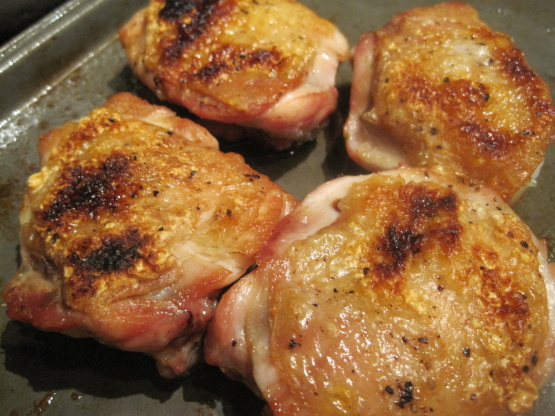 My Mom helped me come up with this easy recipe. Great for when you need a quick dinner idea but don't have time to thaw first.
I made this tonight for my husband and daughter-it was a big hit. The sauce that the butter, lemon, seasonings & chicken juice made was very tasty. Prep was beyond easy & I cooked it all a little longer than the advised 60 minutes, the chicken was very tender & not at all rubbery. I would make it again for a quick healthy meal with rice & steamed broccoli.
Preheat oven to 375 degrees.
Arrange frozen chicken thighs on a lined and greased baking pan.
Coat chicken with butter, rosemary, and lemon juice.
Bake at 375 for 50 - 60 minutes.