Stove Top Tuna Shells and Cheese
twissis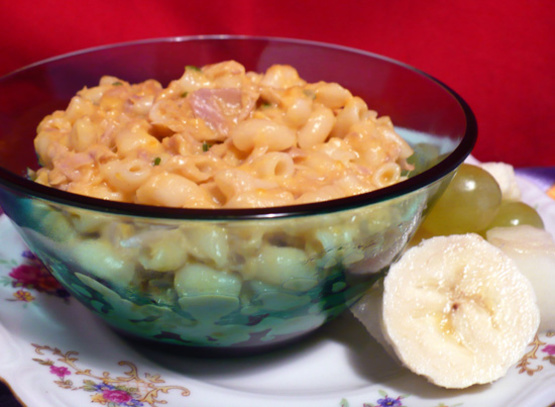 Easy and good. Make sure you put the parmesan cheese in...it doesn't taste the same without it.

*Moral of My Review* ~ Do not send your DH to the store for pasta shells unless you give him a pic of shells or are ready to use macaroni you already had. ~ This brought back fond memories of Fri nites w/Mom making stovetop tuna & pasta w/mushroom soup, but I like this better. I made a half recipe for my lunch + our dinner tonite, adding only chives for color. Tasty + family & budget-friendly comfort food recipes like this are so often subject to pers pref & I found myself thinking about adding texture w/celery, mushrooms or maybe broccoli. I am not sure I would have felt that way as a kid, but I do now. Made for the Aussie/NZ Swap, I loved every bite of my lunch so thx for sharing this recipe w/us. *Edited to Add* ~ IMO this comes much closer to 6 servings & that improves the nutritional data. :-)
Bring a large pot of salted water to a boil and cook shell pasta according to package directions.
Drain pasta and set aside.
Stir the cheeses into the milk in a large saucepan.
Cook over medium heat until cheese is melted.
Stir the pasta and tuna into the cheese mixture and serve.