Swirling F.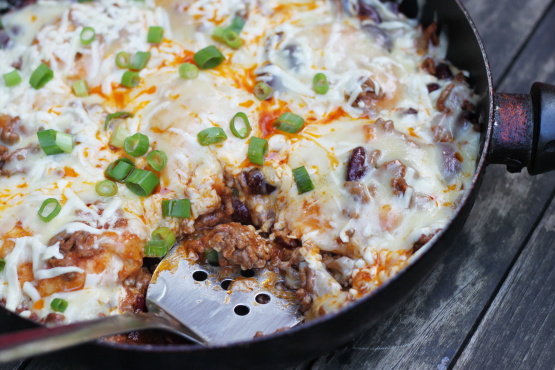 This is a quick and easy one-dish meal.

This was WONDERFUL!!! & was super easy too!

This is such an versitile recipe & is easily adaptable to whatever ingredients you have on hand. I added diced green chilies & chopped onion to the ground beef as it browned. I substituted a can of Hot Chili beans in place of thre kidney beans & used a pkgt of chili seasoning instead of taco seasoning as I wanted to use it up.
Could also add some whole kernal corn. Topped the cooked cornbread with a half can of sliced black olives then the shredded cheese (use whatever you like....Mexican blend, sharp, etc.)
Oh, I omitted the green onions...OK, I forgot them :-}but my DH LOVED it & this's what counts!!!! He said to put a star by this recipe! How about I just put 5 STARS instead?!!!

This is going to be a regular at our house now & a very pleasant addition to our menus after 41 yrs of marriage. Thanks Fluffy!!!!!



Read more: http://www.food.com/recipe/stove-top-tamale-pie-78897#ixzz1WcY7O2fl
In a large skillet, brown ground beef over medium-high heat; drain.
Stir in tomato sauce, beans, water and taco seasoning mix. Bring to a boil; reduce heat, cover and simmer 5 minutes.
Prepare corn muffin mix according to package directions. Drop small spoonfuls of muffin batter over meat mixture in a skillet.
Cover and cook over medium-low heat 15-17 minutes or until corn bread is done.
Top with cheese and green onion. Cover and cook over low heat until cheese melts.