Stove Top Smoker Hickory Smoked Ribs
BarbryT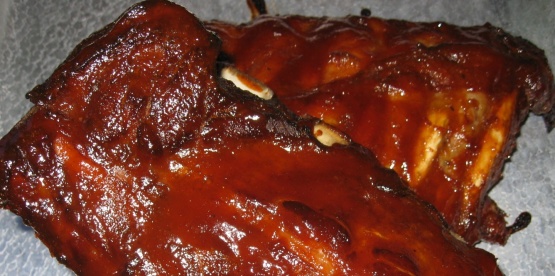 From the Cameron Cooking Guide. This recipe is to be made using a stove top smoker.

Love this recipe! I've been making it from the Cameron smoker cookbook for several years. I'm glad to find it here without my having to key it. Thanks for posting! My wood chips of choice are cherry, but hickory is delicious too. Oh, and my favorite barbecue sauce is Cattlemen's Honey Barbecue Sauce.
2

lbs baby back ribs
salt & pepper

2

cups barbecue sauce

3

tablespoons hickory chips
Rub the salt, pepper and garlic powder into the ribs and carefully arrange on the rack to allow good circulation of the smoke.
Place smoker in medium heat and smoke-cook for 45 minutes per pound.
The smoking stage can be done in advance and refrigerated until just before serving.
To finish, brush lightly with BBQ sauce and place on a cookie sheet into a 450º oven, watching and turning twice to crisp, or on an outdoor grill for 15 minutes.
Serve with remainder of BBQ sauce on the side. The ribs will turn out tender with lots of flavor.