Peter J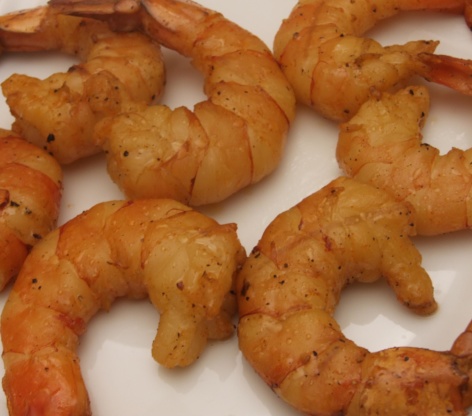 Another recipe to use with my Camaron Stovetop Smoker. http://www.tenderizemeat.com/stovetop-smokers-camerons-stovetop-smoker-p-2419.html These are great as a peel-and-eat appetizer, use in shrimp cocktail, shrimp tacos, or a shrimp salad. Adds a terrific flavor boost. If you're using the mini stove-top smoker, you'll need to make in two batches. Original recipe comes from Southern Living, but once again I've added my personal touch.

I smoked these using a small spirit based fish smoker and loved them! Because I was using large Australian Tiger prawns which I knew would take quite a while to cook through I used about half the amount of chips and smoked over a fairly high temperature around 15 minutes opening the lid and turning half-way which gave a perfect result.
1⁄2 cup finely ground hickory chips

3

lbs large raw shrimp (I like mine peeled and cleaned first)

3

tablespoons olive oil
1⁄2 teaspoon salt
1⁄4 teaspoon fresh ground pepper
1⁄4 teaspoon cajun spices (optional)
Place wood chips into center stove-top smoking pan.
Insert drip pan and food rack.
Toss shrimp with remaining ingredients.
Arrange shrimp on food rack; cover with smoker lid.
Cook shrimp over medium heat 10 minutes or just until shrimp turn pick.