Stove Top Pork Chops With Gravy
Annacia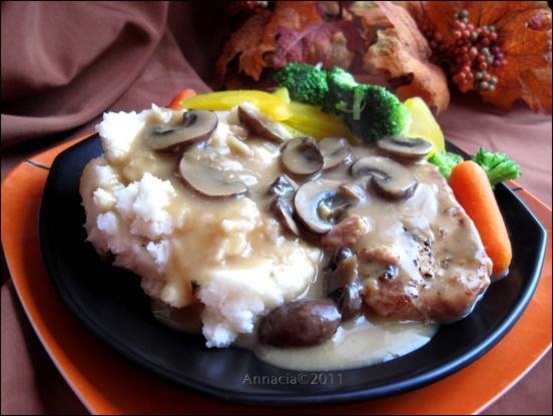 A family favorite that is quick and easy to make. This makes a lot of gravy. Hubby likes to cut up the pork and make a pork and gravy sandwich. You can also use chicken in this recipe.

Good home cooked comfort food, how can you go wrong! The pork loin that I used was tender and moist with the 1 hr of cooking. There is lots of the gravy too. This is so easy that I played a game while it was on the stove at a low simmer with a lid on. I checked on it 3 times and it was perfectly happy being left alone to do it's thing. I'm looking forward to trying it with the chicken.
Season your pork or chicken with the pepper.
Brown pork or chicken.
Add cream of chicken soup, chicken broth, and garlic powder and stir.
Add mushrooms.
Cover with lid and cook for about an hour. I usually cook the pork for an hour but the chicken for 40-45 minutes.