Stove Top Pasta - Quick and Easy
Prep 10 mins
Cook 20 mins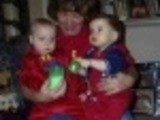 This is a pasta dish that is quick and easy to make and yet very flavorful. Serve with a salad and/or vegetable and bread to make a complete meal.
Directions
Cook pasta in boiling water for 10-12 minutes, till tender; drain.
Brown the meat with the garlic; drain it.
Stir in the oregano and basil leaves and cook 1 more minute.
Add the tomatoes and heat to boiling.
Reduce heat and simmer, uncovered, for 15 minutes, stirring occasionally.
Stir in the pasta and heat through.
Serve with grated parmesan cheese.
Most Helpful
A tasty dish, but I found the dried herbs overpowered the flavor of the meat. I might try it with fresh herbs next time. Thank you.

Okay, I changed a couple things, but we all really liked this! I used campanelle, and in place of the ground beef, I used ground chicken, and in addition to cooking it with the garlic, I also added a little chopped onion and a little olive oil. I used a can of crushed tomato in place of the diced (for the kid's pickiness reason) and about a tablespoon of tomato paste.Poured the whole works in a baking dish, topped with Parmesan and shredded mozzarella, and baked it for about 20 minutes. My husband then asked "What do we call this when we want you to make it again?" (that's his way of saying he loved it) Thanks!