Stove Top One-Dish Chicken Bake With Vegetables.
Karabea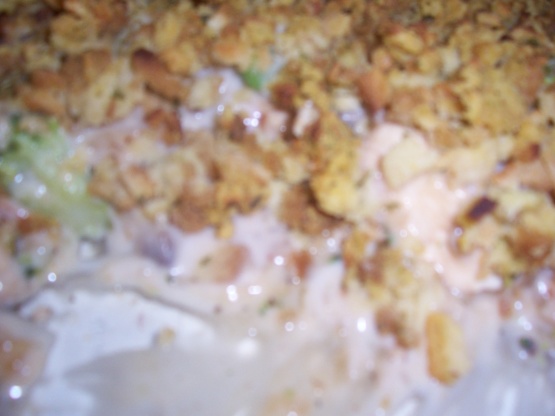 This is a very versatile recipe. It calls for cream of mushroon soup but I make it with cream of chicken or cream of celery. It calls for mixed vegetables but I have made it with frozen corn, or green beans or peas. I use 2 boxes of stuffing mix because we like lots of stuffing.

Hi what is stove top stuffing mix. Never heard of it in Gauteng
Set oven at 375F.
Mix stuffing according to instructions and set aside (do not cook)
Place chicken in 13X9 inch baking dish, or casserole dish.
Top with vegetables.
Mix soup and sour cream, pour over chicken.
Top with stuffing Bake for 45 minutes or until chicken is cooked through.
Make-Ahead: Assemble recipe as directed: cover.
Refrigerate overnight.
When ready to to serve, bake at 375F for 55 minutes or until chicken is done.