Stove Top Chocolate Pudding
flower7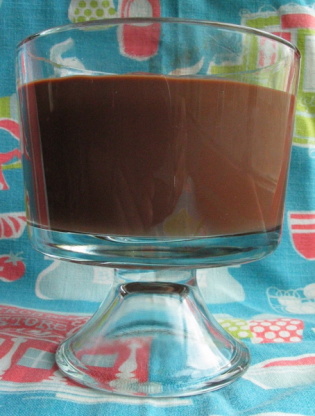 Really easy chocolatey pudding for two

I didn't read recipe completely till I was in my kitchen, pouring my WHITE 2% Milk, then had to figure out how to turn it into chocolate milk. I used the 'hot chocolate' recipe on the side of the Hershey's Cocoa Powder and added an additional 1/4 cup cocoa, 1/2 sugar, dash of salt and vanilla (for 4 cups of milk since I doubled the batch). Overall a great sucess for my first, not-from-box or plastic cup pudding. I found this recipe as a way to use to milk that was going to spoil. I used much smaller cups and got 9 servings from a double batch. Also, used microwave-warmed chocolate chips instead of baking chocolate.
Combine dry ingredients in a small saucepan.
Grate chocolate into mixture, make a well.
Mix in chocolate milk with wisk.
Heat on a low medium for 5-10 minutes, stirring constantly until desired thickness is reached.
pour quickly into two small ramekins or bowls, try not to scrape the sides too much or you'll get small chunks in the middle of the pudding.
chill or eat warm.