Stove Top Blueberry Slump
Boomette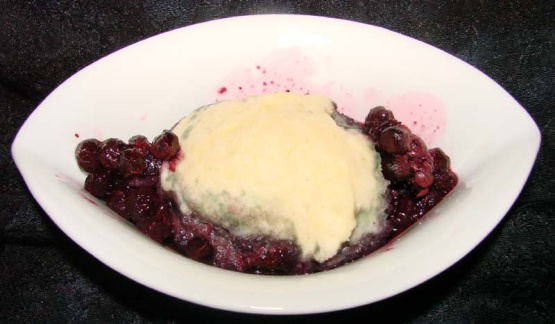 If you love warm, sweet blueberries with fluffy dumplings on top, this is the recipe for you! This is "supposed" to serve 6, but that's only if you have very-restrained eaters. Sometimes this serves only 2 in my house!
In a large heavy saucepan, combine blueberries, sugar, water, lemon peel and juice, then bring to a boil. Reduce heat and simmer, uncovered for 5 minutes.
Meanwhile, combine flour, sugar, baking powder and salt. Cut in butter until mixture resembles a coarse meal. Add milk quickly, mixing until dry ingredients are just moistened. Drop dough by spoonfuls into simmering berries (makes six dumplings). Cover and cook over low heat for 10 minutes. Do not lift lid.
Spoon dumplings into individual serving bowls and spoon some sauce over each. Serve warm with cream or whipped cream, if desired.