Stormy's Reese's Peanut Butter Cup Cookies (2 Ingredients!)
Ms B.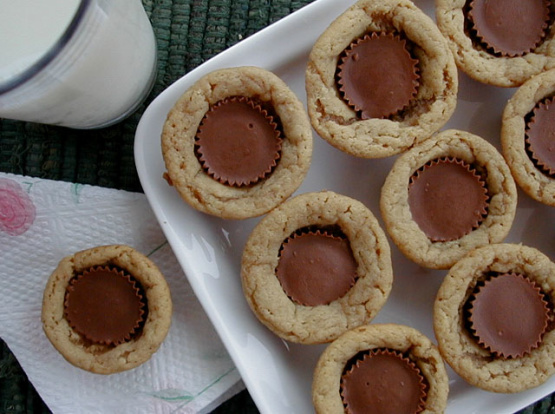 Refrigerated cookie dough and mini peanut butter cups make preparing these a breeze...BUT they taste like a lot of effort goes into them. This recipe was given to me, so I do not know who Stormy is, but I figured I should give him/her credit! According to "Stormy", you can also do these with Rolos (haven't tried that yet!)

1

(18 -24 count) package miniature peanut butter cups, unwrapped

1

(18 ounce) packagerefrigerated peanut butter cookie dough or 1 (18 ounce) package refrigerated sugar cookie dough
Place unwrapped peanut butter cups in freezer before starting.
Preheat oven to 350 degrees.
Using miniature muffin tins, place a 1 inch ball of dough in each cup.
Bake for about 5 minutes LESS than package directions instruct (This usually turns out to be about 7-8 minutes).
Remove from oven and leave in pans.
Remove candy from freezer and carefully press one into each cookie.
Remove from tins after they are almost cool.
Cool completely on racks.