Stormy Day Breakfast Bread Pudding
PaulaG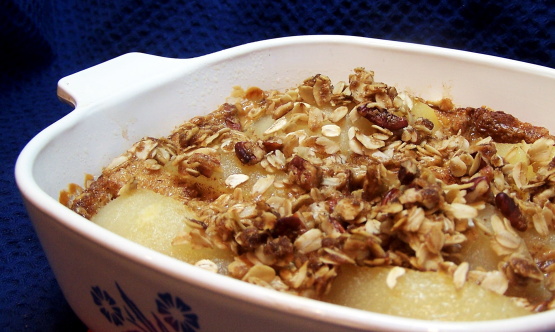 This is a recipe that I clipped from the newspaper. I modified it by changing the topping. The original recipe called for 1 cup of low-fat granola, but I switched it to a topping like you would find on an apple crisp. Use any type of bread. I used 2 wheat & 2 egg hamburger buns from the freezer.

This was very good. Very good flavor and very moist. I had to cook it for an hour. The pears were good but a little weird. I think I may try something else next time like apples or apricots or something. That is the nice thing about this: almost any fruit will work.
Preheat oven to 350 degrees.
Spray an 8" x 8" glass baking dish with cooking spray.
In a large bowl, combine milk, eggs, brown sugar, vanilla and salt. Blend well.
Add bread cubes and mix well. Pour mixture into prepared pan.
Arrange place pears over bread and sprinkle entire top with cinnamon.
Mix topping ingredients of oatmeal, brown sugar and melted butter together.
Sprinkle over bread & pears.
Bake for 50-60 minutes or until knife inserted in center comes out clean. Let sit for 5 minutes before cutting. Serve warm.