CoffeeB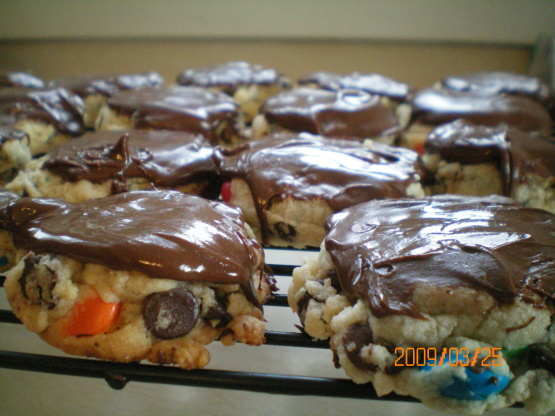 Don't let the name turn you away. My nephew helped invent these cocolate chip and m&m cookies when he was 5. I let him name them, and as he looked out the car window at the stormy clouds, he decided on the name Stormero's. I love these cookies because they are so rich that you can only eat one!

I did have a few problems (or so I thought) with this recipe initially. But, the end result was that they came together perfectly. My baking time was an issue as I was baking two cookie sheets at a time. They ended up having to bake for an entire 15 minutes. A few deviations from your recipe included putting the M&M's in the cookie dough along with the 2 cups of choco-chips. For future reviewers, I would cut the chips down to 1 cup or even 1 1/2 cups as 2 seemed a bit much. The p.b. and choco-chip frosting was a nice touch. These cookies would be equally as good w/o the frosting, but being the p.b. freak that I am, I went ahead with the frosting. These are a rich little cookie (with the frosting) and so you don't need a very big scoop to make your cookies. These made a nice birthday treat for DS#3 to bring to work. Made for PAC Spring '09.~
For cookies:.
Mix butter, sugars, egg and vanilla.
In a separate bowl, combine flour, baking soda and salt.
Slowly add both mixtures together. Add 2 cups chocolate chips.
Bake at 350 for 8-10 minutes or until cookies look ALMOST done, but not fully cooked. They will finish cooking while they cool.
Once cookes have cooled, melt remaining 1 cup of chocolate chips with 1 cup peanut butter. (an easier methood is to buy a bag of chocolate and peanut butter chips and melt).
Spoon melted chocolate/peanut butter over the cooled cookie. Don't let the chocolate spill over the sides.
Add 7-10 paunut butter M&M's on top.
Let the chocolate/peanut butter mixture harden before serving.