Stolen Garlic Chicken Livers
Bergy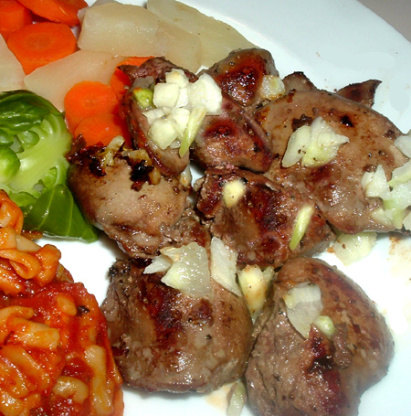 This is the ultimate Garlic Chicken Liver recipe. Simple, quick, minimal ingredients. Stolen from my local Italian restaurant after two weeks working there as a dish washer just to get the recipe. They've retired now so I don't think they'll mind me divulging their secret!

Ive always hated liver with a passion and could not eat it. But, this recipe took me by surprise. Great, quick, easy recipe. I was hesitant about the RAW garlic, but it fit perfectly. Highly suggest trying this recipe. Its so easy to make that its at least worth trying.
Wash, trim and dry the Chicken Livers.
DRY fry them, NO OIL, in a frying pan, for three or four minutes until cooked through.
Whilst still on the cooker add the oil, lemon juice and salt to taste.
Stir once gently to mix.
Serve immediately into a single portion dish and sprinkle liberally with chopped garlic, the more the better.
The dry fry technique prevents the liver from browning and keeps it tender enough to melt in your mouth.
Don't use Virgin Olive oil, the Greeks and Italians only use that for salads and dressings, very rarely for cooking.
Bon Appetite!