twissis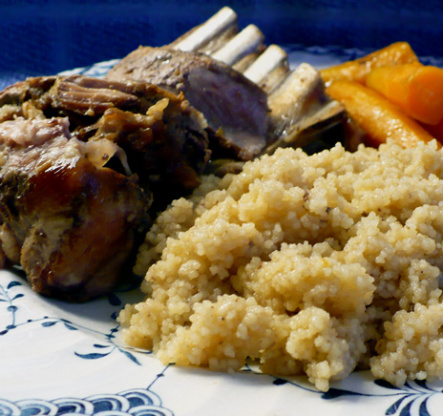 Pixie's Mama's version of the recipe.

Made for ZWT-8 & last nite's dinner just because it was a lamb recipe & we're rarely disappointed w/Iceland's lovely lamb. I'm not sure what BRITAIN has to do w/STOCKHOLM lamb but was happy to see it anyway. I did skip the salt (DH is salt-restricted) .. used extra garlic as you noted .. & used brewed coffee vs the granules. I also skipped the sugar as you noted (it just didn't seem relevant). I cooked carrots w/the lamb & didn't get the black colour you said would happen, prob because I added an excess of water so I'd have more of the lovely lamb liquid for the cous cous I later made using it. The excess water also seemed to make the coffee & brandy flavours fade to barely subtle. I cooked it on the stove-top vs oven so I could give it my full attention, altho it required little. All that said, the lamb was delicious & made for a lovely meal w/the carrots & cous cous. Thx for sharing this recipe w/us.
Cut off as much fat as possible so the flavours go straight into the meat. This is the longest bit.
Skip the salt. I use as much prepared mustard, usually French or Dijon and rub it in, as much as you feel like!
Rub in the mustard and garlic (I use more than 1 clove) on all sides and pour over a little bit of the water, gently so you don't wash off the goodies already on it. The water also makes the lamb just moist enough to dampen the next super ingredient. Sprinkle over a couple of tablespoons of coffee granules (stuff this, making a cup of coffee). Skip the sugar and leave the brandy till a little later or you'll definitely lose all the alcohol.
If cooking in the frypan pour more water into the frypan NOT on the lamb or you'll definitely lose all the goodies. Cook on 8, (10 being the hottest) for a couple of hours. Keep checking to make sure the pan does not boil dry and turning the lamb a few times to make the flavours go all through. You can add oil at the beginning if you like. I sometimes cook the veges in with the lamb and they come out black and yummy but not crunchy.
Shanks don't take as long as the leg to cook and are better with a lower temperature about 160C in the oven, especially if you are just cooking the shanks.
If cooking in the oven, I use less water 'cos it doesn't evaporate as much and bake uncovered at about 180-200C for a couple hours.