PaulaG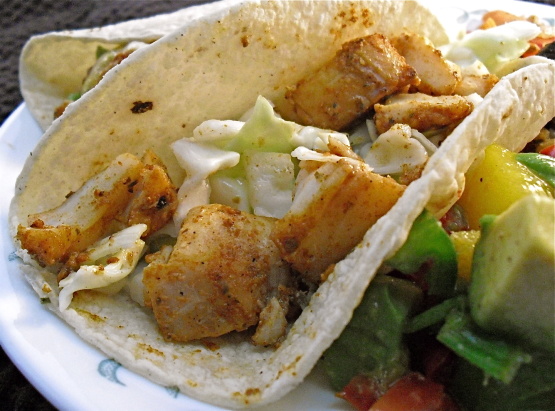 I tried these when visiting friends in San Diego. They are so delicious and great when the weather gets warm. They shared the recipe with me but I don't know where it originates from--don't really care. Just know it is good eatin'

I varied on this. I used sole instead of halibut and omitted the cajun seasoning and used flour instead. I then stir fried in a regular nonstick pan with a few tablespoons of olive oil. Another suggestion is to serve with lime and cilantro which I also did. I'm sure that made to the specifications of the recipe it's very good as well. I picked this recipe because I was looking for a Baja Sauce recipe that my husband, who has spent extensive time in Mexico, requested. He said the sauce and the way I made this recipe was the most authentic fish taco he'd had in the United States. Very, very easy recipe to make and really good!
Put halibut chunks in a bowl; sprinkle with cajun seasoning and toss to coat.
Transfer halibut to a well-greased grill wok (the kind with holes in it).
Stir-grill over hot coals for 8-10 minutes, tossing while cooking.
In a big bowl, add cabbages; mix well.
In a smaller bowl, add vinegar, sour cream, green onions, and salt; stir to combine.
Add dressing mixture to cabbage; toss to coat well.
For each tortilla, fill with 1/3 cup cabbage mixture and 4-5 chunks of halibut; fold up and serve with lemon wedges, salsa, tartar sauce, guacamole, and a pitcher of margaritas.