Stir Fry Veggie Take Out!!
teresas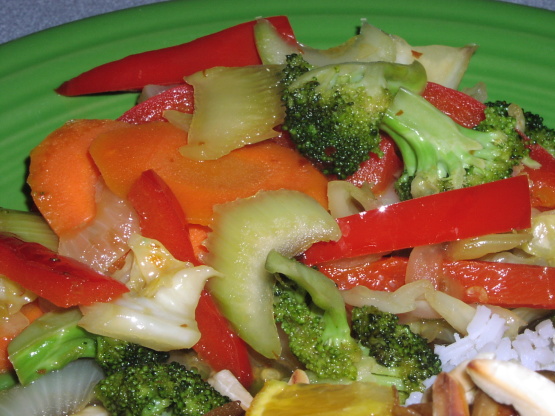 A very healthy option to Chinese take out. Meatless but wonderful! The orange juice, honey and gingerroot create a sweet and sour taste that will have you throwing away all those take out menus! Easy to prepare, easy to freeze and easy on your waistline!! ;)
354.88

ml carrots, thinly sliced

354.88

ml broccoli florets

177.44

ml celery, thinly sliced

177.44

ml onion, thinly sliced

177.44

ml bok choy, chopped

177.44

ml peas, snow peas

177.44

ml orange juice

78.07

ml honey

7.39

ml fresh gingerroot, grated

9.85

ml vegetable oil
salt and pepper, to taste
cayenne pepper, to taste (optional)
In a large freezer bag add all on the veggies.
Gently force out any air; seal the bag.
In a quart size freezer bag add the oj, honey and ginger.
Gently force out any air; seal the bag.
Place the 2 bags into another large freezer bag with printed recipe and seal, squeezing out as much air as possible.
To cook; thaw.
Heat oil in a large skillet over medium-high heat.
Stir fry veggies until tender and crisp.
Add the orange juice mixture. Salt and pepper to taste. Add a pinch of cayenne pepper to the vegetables if desired. Bring mixture to a boil for 1 minute, remove from heat and serve.