KateL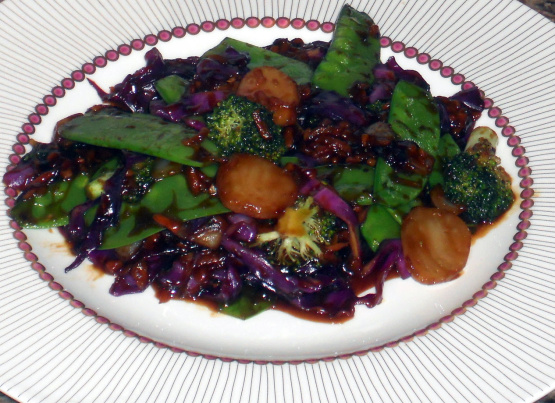 The colors in this dish are beautiful! Created for RSC 18, making a fabulous combination of vegetables that could be changed according to what you have on hand.

Top Review by KateL
Couldn't be simpler, DH loved the intense gingery sauce. We are not big fans of purple cabbage, so we would rather have increased the broccoli or added mushrooms and omitted the cabbage. The shredded carrot got lost, so I would cut the carrots in thin julienne next time for better color contrast. DH loved the ginger, but I would use less next time and increase the garlic. Next time I would also try with only 1 tablespoon of cornstarch. Made for Summer Photo Tag.
In a bowl, combine the molasses, broth, soy sauce, cornstarch, gingerroot, garlic, and red pepper flakes. Set aside.
Heat the oil in a wok or heavy skillet. Add the vegetables and stir fry for 2 minutes until crisp tender. (A skillet may take a bit longer).
Mix in the molasses mixture. Cook this until the sauce begins to thicken and the vegetables are coated.