katia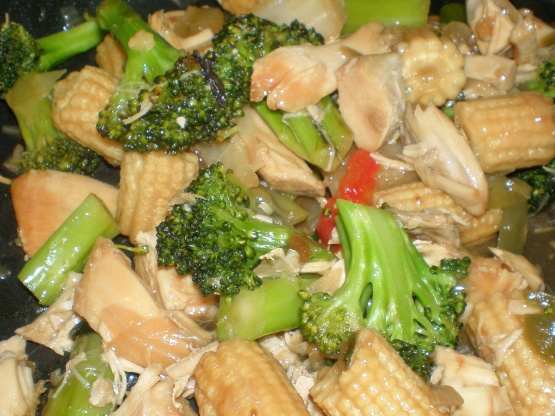 Another recipe from my Filipino piano teacher.

This is a great, simple stir fry... you can really use your imagination (or clean out your refrigerator!) to change it up... I left out the chicken since I wanted just a veggie side dish to Recipe #145038 with some jasmine rice... I used broccoli, cauliflower, carrots, snow peas, straw mushrooms, bamboo shoots, baby corn and water chestnuts... I love peppers, but they are so expensive right now... I like the oyster sauce... it really makes the light sauce delicious! That is my mom's "secret" ingredient in her stir fry veggies... I don't usually add the cornstarch since we like a thin sauce... Thanks for sharing!!!
Saute onions in oil.
Add chicken and stir fry until browned. If not marinated, season with soy sauce and garlic.
Add vegetables except for baby corn and salt. Stir fry for 3-4 minutes.
Add baby corn and soy sauce to taste, if desired.
Pour sauce over, stir till all vegetables are coated. If more sauce is needed, just double the recipe. I haven't made this in ages, so you might need more. I can't remember.
Sauce: stir all ingredients for sauce together until slightly thickened.