Peter J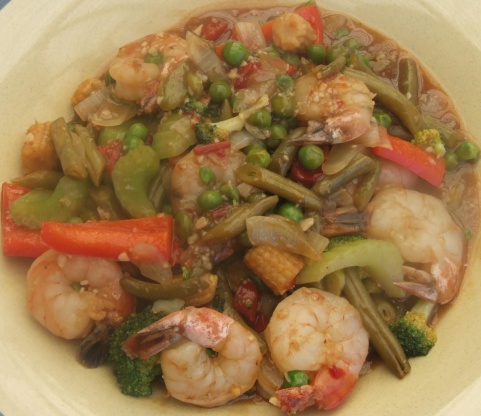 A wonderful recipe for shrimp stir fry, I have made this many times --- chop veggies in advance to save time, once your veggies are chopped this stir fry takes little time to make ---I have made this without the snow peas it is still good but better with them added, white wine only for this

Great tasting recipe. I replaced the bean sprouts out with shredded carrots for more color. I thought the oyster sauce was a bit much but husband thought it was perfect as written. For a bit of heat I sprinkled the shrimp with chipolte spice - beautiful. Served with #60143 rice.
Heat the sesame oil in a wok or a large skillet over medium-high heat.
Saute the garlic and ginger for about half minutes (30 seconds).
Add in the shrimp and cook for 30 seconds.
Add in veggies and stir fry for about 2-3 minutes,.
Stir in oyster sauce, soy sauce, honey and wine; toss and cook for about 2 minutes.
Delicious!