Stir-Fry Prawns / Shrimps With Vegetables and Fresh Thai Noodles
PaulaG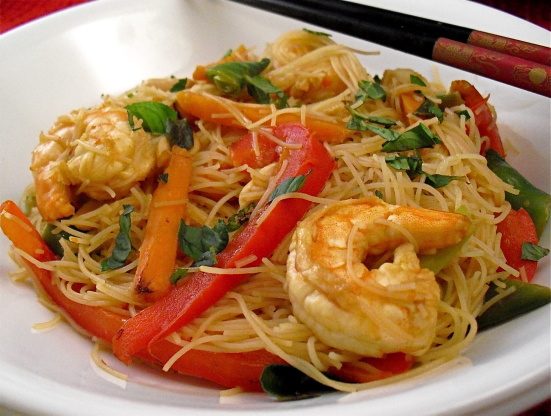 This recipe started off as a chicken salad but I wanted something warmer and I had raw green prawns at home so it ended off as a stir-fry. For the noodles I used Fresh Thai Noodles which are yellow in colour and flat, I purchase them in the fridge section of the supermarket. I ate the stir-fry the next day for lunch and the flavours really enhanced. Enjoy

Do you feel sorry for me :( I made this wonderful dish, and now I have none left. I thought I might be able to go 2 days with this, and eat it for lunch as you did, but alas that is not happening. My grown son, Mike who is very tall came over for a visit, and immediately wondered if he could have some. He was so enthralled by the taste he scooped up the rest and pronounced, "Mom - you don't want any do you?" Well of course I did, but gave it to him, as only a mother can do. The taste SHOUTS freshness, the shrimps are perfect in this recipe, and all the ingredients all fit together as a puzzle does. I especially loved the lime juice addition coupled with the sweet chili sauce and sesame was outstanding. I used fresh mint since I grabbed it from the garden and added the roasted cashews at the end. I had some regular (?) thai noodles that were more round then flat, but I bet it had the same taste. Thank you so much chef floWer! There is none left and don't you feel sorry for me?
Heat Wok, add tablespoon peanut oil, allow the oil to heat.
Add the 'The Vegetables' (Spring onions, red capsicum, snow peas, and carrot) in the wok and stir-fry for four mins, remove to separate bowl. Note: Cook vegetables until your preferred texture, it you like them crisp cook them for 4 mins if you like them soft cook them longer.
Add the prawns in wok and stir-fry until they are covered with oil.
Add 'The Sauces' (Sesame oil, lime juice, ketjap manis and sweet chilli sauce) into the wok, stir fry until bubbles and the prawns are pink or no longer transparent, reduce heat.
Add noodles until they are separated.
Add mint and coriander, then mix in the vegetables and cook until they are warm.
Serve in bowls and garnish with roasted cashews.
Enjoy.