Stir Fry Parmesan Zucchini

A GREAT side dish to have with any meal! Quick and easy to prepare! A blend of olive oil, butter and seasonings give flavor galore!!!
Directions
Cut zucchini into thin slices.
In a large saucepan combine olive oil and butter. Add zucchini and saute on low heat until tender. Before removing from heat, sprinkle with salt and garlic powder.
Place in serving bowl and sprinkle with fresh parmesan cheese.
Most Helpful
Simple, quick, and VERY tasty!!! Will be enjoying this many times this summer and for years to come, I think ~ we always have more zucchini than I know what to do with!! Thanks for this great recipe!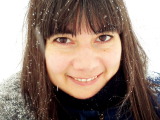 We have been eating more zucchini so I have been trying different recipes. I followed the recipe exactly as written, adding the optional pamesan cheese. I loved this. I could have eaten this as a meal. The only thing I would do differently next time is only use one tablespoon of olive oil instead of two. Mine were just a tad on the greasy side.

WOW! This was sooooo good!!! Fixed it just as posted. We loved it. I could have made a complete meal of just this zucchini. Next time will at least double it. For someone who wasn't a zucchini fan, this sure changed my mind. Delicious!!!!! Thanks for posting this great recipe.