Stir Fry Maitake Mushroom & Beef With Oyster Sauce
kda949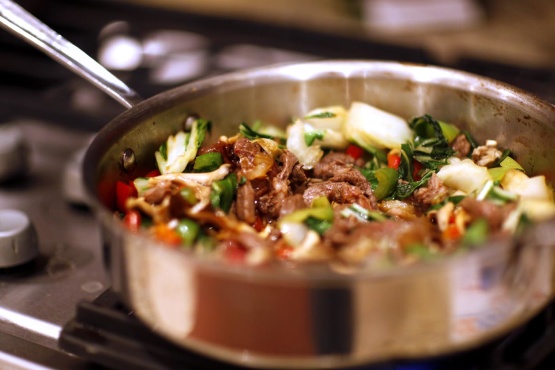 This recipe is from a Japanese Mushroom company called Yukiguni Maitake Corporation. I bought some maitake mushrooms at a local japanese market and wanted to add the recipe here so that I can find it tomorrow when I plan to cook them! I would image you could use regular "gringo" mushrooms too. But I have read that the health benefits of maitake mushrooms is really really good- especially for cancer.
7

ounces maitake mushrooms

1

lb top sirloin steak, sliced into strips

2

green onions, cut to desired size

1

small eggplant, chopped

2 -3

leaves Chinese cabbage, sliced into 1 in. strips (aka Napa cabbage or you could use Bok Choy)

1

tablespoon vegetable oil

3 -4

tablespoons oyster sauce

1

red pepper, diced
1⁄4-1⁄2 cup soy sauce
1⁄4-1⁄2 cup white wine

1 -2

tablespoon oil

1 -4

teaspoon cornstarch (optional)
Marinate the beef in a mixture of equal parts soy sauce and white wine for 5 to 6 minutes.
Break maitake mushrooms into bite sized pieces.
Heat oil in wok on high heat (peanut oil works best for stirfry because of the high heat but I use canola oil without any problems).
Add red pepper, green onion and eggplant to the wok and stir fry.
Add beef, Maitake Mushrooms, Chinese cabbage and oyster sauce to the mixture. Stir well and cook until beef is cooked through.
If desired, add 1-4 tsp corn starch to thicken the sauce.