Stir-Fry Chicken Fajitas - Ww
teresas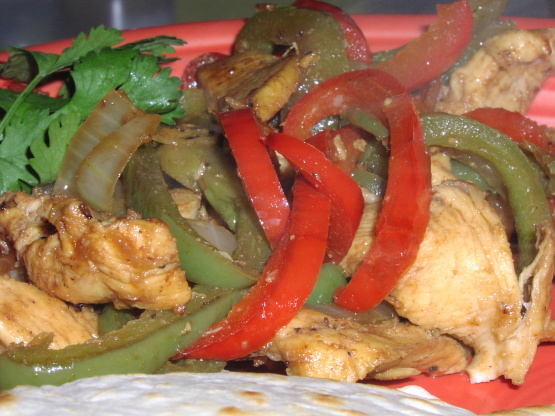 An old "Cooking for the Clueless" scout camping recipe. WW friendly - 4 pts per fajita.

Very good! We really enjoyed this. I wasn't aware that adding just some water would make a great stir fry technique. This is awesome. I didn't have yellow pepper so just threw in some sliced jalapeno's for extra heat. Worked great. Thanks for posting.:)
Take oil, lime juice, cumin and cayenne and mix together in a glass bowl. Put chicken in bowl and let it marinade for 1-2 hours.
In a wok, heat 1 tablespoon of water until very hot. Add chicken with marinade and stir-fry over high heat until chicken is white throughout, 3 to 5 minutes. Remove to plate.
Add another 2 tablespoons of water to wok and heat until very hot. Add peppers, onion, garlic; stir-fry until crisp-tender, 3 to 5 minutes. Return chicken to wok and season with pepper. Toss until heated through, about 1 minute.
Serve with flour tortillas, shredded cheese, sour cream and guacamole.