Stir Fry Chicken and Broccoli With Peanuts
ErikaNY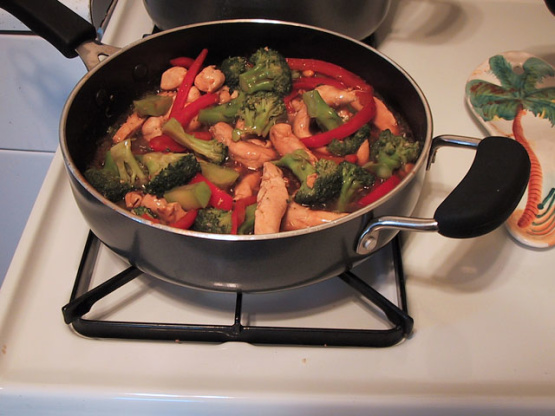 A healthy stir fry from Diabetic cooking.

I was looking for a stir fry recipe in which I had most ingredients on hand - this fit the bill and looked so good from your picture and the ingredients!! I made it tonight for my husband and I and doubled the recipe (he's a big eater!!)... but tripled the broccoli as I really enjoy it in stir frys. I didn't use low sodium ingredients (broth, soy sauce, etc) as I had the 'regulars' on hand ... so I ommited the salt callled for in the ingredients. Next time (and there will definitely BE a next time!!!) I may even triple the sauce... we enjoyed it very much and would like a little more to pour over the rice we used. 10 thumbs up, can't wait to have it again! Thanks for posting!! (I posted a few pics, too!)
Combine half of chicken broth with soy sauce, cornstarch, salt, ginger and garlic powder in small container.
Stir until smooth, set aside.
Lightly coat non stick frypan with veggie spray.
Heat frypan on high heat until hot.
Add oil, tilt frypan to coat bottom.
Add chicken; stir fry 2 minutes, or until no longer pink.
Remove chicken.
Add remaining broth to frypan, bring to boil.
Add broccoli and bell pepper, return to boil.
Reduce heat and simmer, covered 2 minutes or until broccoli is crisp tender.
Increase heat to high.
Add chicken to frypan.
Stir sauce and add to frypan, bring to boil.
Cook 1 to 2 minutes or until thick.
Stir in peanuts.