Stir-Fry Beef With String/Green Beans
Derf2440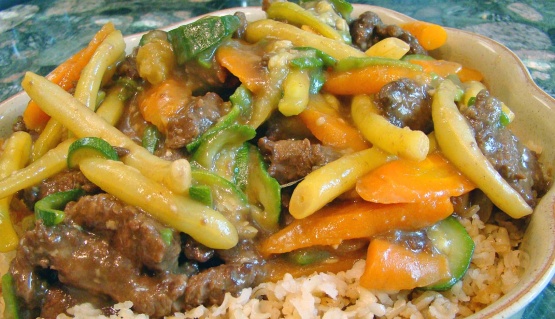 Found this in a wok my mom gave me. Just had to try it. Very good!!!

Used my bumper crop of green beans to make this. Used sirloin steak and it ended up with a good tender consistency as well as a good flavor. Good recipe- thanks for sharing! Liked it a lot.
Marinate beef in cornstarch, sherry& soy sauce about 1/2 hour.
Cook beans in boiling water 2 minutes.
Rinse in cold water.
Heat oil in wok.
Brown garlic& ginger.
Add beef.
Stir fry until color changes.
Add beans & sugar.
Stir fry 1 minute.
Add dissolved corn starch mixture.
Stir fry till thickened.
Serve with rice if desired.
Serves 4-6.