Stir-fried Zucchini With Hoisin Sauce
katia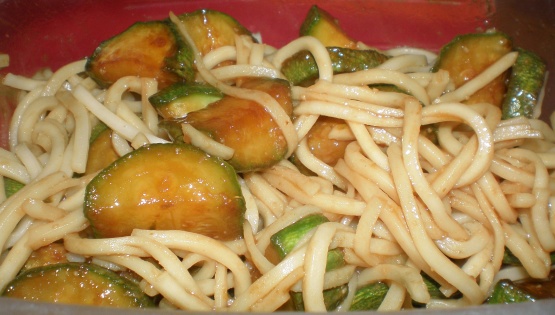 From Fine Cooking #65. I love hoisin sauce so decided to try this recipe - and was so glad I did! Prep time includes slicing and salting the zucchini.

Super good! I did over cook my zucchini, and I will not make that mistake the next time. But I wanted to get a little brown on the zucchini. Can't wait to make this again. Loved the heat from the chili pepper flakes and the crunch of the toasted sesame seeds. Thanks for sharing! Made for Zaar Chef Alphabet Soup tag game.
Quarter zucchini lengthwise.
Slice off the soft seed core; it's ok if some seeds remain.
Arrange the zucchini, cut side up, on paper towels.
Sprinkle with salt, set aside for 10 mins.
Blot the zucchini quarters dry with paper towels.
Cut quarters into 2 inch lengths.
Mix soy sauce, hoisin, sherry and sesame oil in a small bowl.
Heat a wok or large skillet over med-high heat for 1 min.
Pour in canola/peanut oil; when oil starts to shimmer and ripple (very hot), add zucchini.
Saute until zucchini browns and softens slightly (don't overcook- it might turn mushy), about 4 mins.
Add garlic and chilli flakes, saute for about 15 sec.
Add the sauce mixture, stir and cook just long enough for liquid to reduce and coat the zucchini (about 20 sec).
Remove from wok, sprinkle with toasted sesame seeds and serve immediately.