Stir-Fried Tofu and Vegetables with Oyster Sauce
Ari V.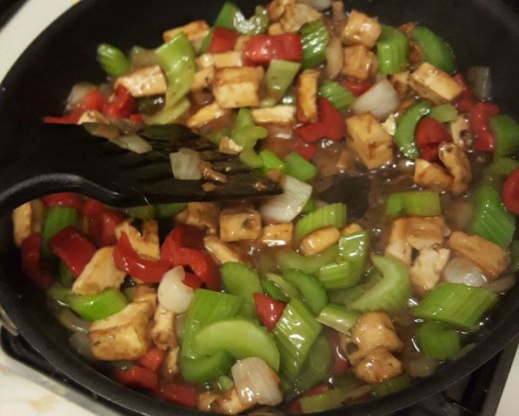 Recipe comes from Canadian Living Light and Healthy Cookbook.
Drain tofu and weigh down to press for 30 ins.
Cut into 1/2 inch cubes.
set aside Cut onions and celery into 1/2 inch diagonal pieces.
Cut red pepper into 1/2 inch chunks, set veggies aside.
Stir together water, oyster sauce, cornstarch, sherry and soya sauce, set aside.
In wok or large heavy skillet.
Heat 1 tbls of the oil over high heat, stir-fry ginger for 30 secs, add tofu and cook stirring gently, for about 3 mins or until light brown.
With a slotted spoon, transfer to heated platter.
Add remaining oil to wok and heat, stir-fry mushrooms, onions,celery and red pepper for 1 min.
Return tofu to wok, stir to mix well.
Stir oyster sauce mixture.
Pour into wok and cook, stirring until liquid comes to a boil and boils for 1 minute.
Serve immediately.