Stir Fried Shrimp( Kra Prow)
Kelly M.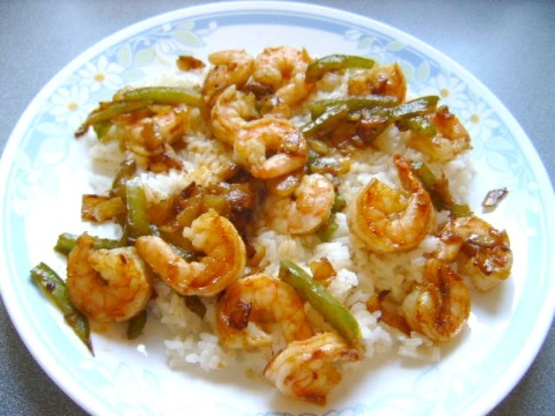 This I posted as requested. I myself love thai food. And my DH loves it more. You can use any squid, shell fish, beef or chicken. Slice the meat thin for quick cooking if using the meat or chicken. Make it as spicy as you like. This is a fast cooking recipe. Serve with Jasmine rice or noodles.

mmmmm this was gooooood. i really enjoyed this. loved the flavor. sub. frozen green beens for the bell pepper and dried basil insted of fresh since that's all i had. also omitted the chile since i didn't have that either but still came out really flavorful. for 1lb of shrimp tho next time i'll double the sauce. thanks for sharing! will go in my favorites file! =)
In large saucepan, heat oil on medium low, saute onion, peppers, garlic.
Add curry paste, stir well.
Add shrimp stirring.
Add fish sauce and sugar.
Cover and cook for 3 minutes then add basil leaves Remove from stove, serve with rice.