Stir-Fried Shrimp, Chinese Style
alligirl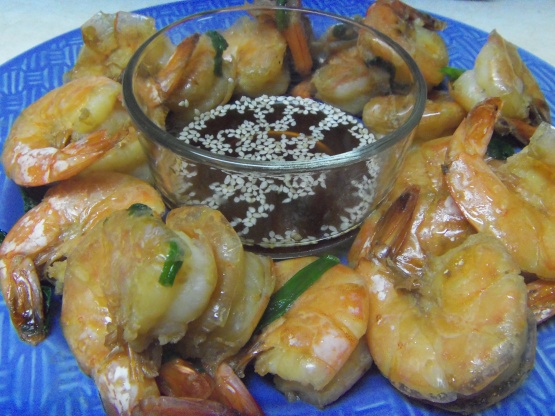 From the Frugal Gourmet, Jeff Smith. This is a simple appetizer recipe that Jeff created because he was inspired by a similar recipe he had eaten in San Francisco. It's an easy fix! You will have to peel and eat, so make sure to have plenty of napkins!

Beautiful shrimp, which we enjoyed for appy night! They 'fried' up nicely, in the wok and finishing them with the sesame oil imparts a really nice depth of flavor. Served with ponzu as a dipping sauce. Definitely going into my 'Best of...' cookbook and we'll be having them again! Thanks for sharing, LifeIsGood!
Marinate the shrimp, in shells, for about 15 minutes in the soy sauce, sherry, and ginger. Drain.
Stir-fry in a hot pan (on med. high heat) with the peanut oil and garlic until the color of the shrimp changes to pink.
Add the green onions, salt and sesame oil. Toss until the onions barely wilt.
Serve hot and let guests remove the shells right at the table!