Stir-Fried Shitake Mushrooms With Tofu and Bok Choy
Parsley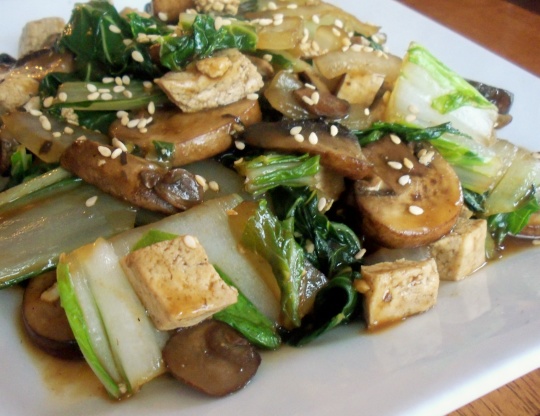 From Vegetarian Times Magizine..These are simply delicious!

Top Review by Prose
What a wonderful stir-fry! I loved the combination of flavors! I dry-fried the tofu using this method: Recipe #415903 while mixing up a double batch of the sauce. Then I let the tofu marinate in the sauce while I steamed the bok choy and sauteed the mushrooms. I used button mushrooms since I had them on hand, but I can't wait to try this again with shitake mushrooms because I know it will be even better! I also subbed Braggs Liquid Aminos for the soy sauce (and used extra). My husband loved this, and his friend who doesn't normally like tofu tried it and declared that it was "officially good." That's the highest possible compliment. Recipenapped for Veg*an Swap, March 2010.
Whisk together cornstarch and 1 tsp.water in bowl.
Whisk in soy sauce, ginger, chile sauce, garlic and sesame oil.
Heat 1 Tbs. canola oil in large skillet over medium high heat.
Stir-fry tofu7 minutes, or until golden brown.
Transfer to plate.
Add 1 Tbs. oil to pan.
Stir-fry bok choy 4 minutes, transfer to plate.
Add remaining 1 Tbs. oil to pan.
Stir-fry mushrooms 2 minutes or until tender.
Return tofu and bok choy to pan.
Stir in soy sauce mixture and stir-fry 1 minute until hot.