Stir-Fried Sesame Bok Choy
teresas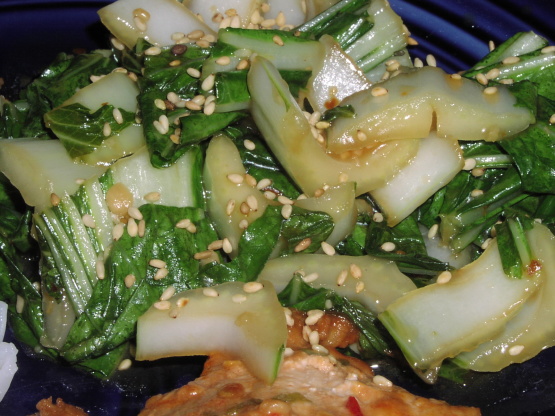 From WW Simply Delicious. Per 1/2 c. serving: 50 calories, 0 g fat, 0 mg cholesterol, 7 g carbohydrate, 2 g fiber, 3 g protein, 1 point.

Came out perfectly!! Loved the sesame oil! Only 1 pt per serving on weight watchers! Omitted ginger because we just don't happen to like that. Came out great without it though! Also used veggie broth instead of chicken. Reheated great for lunch the next day!
Heat a large nonstick skillet or wok over med-high heat until a drop of water sizzles.
Add the oil to the skillet and swirl to coat the pan.
Add in the garlic, ginger, and crushed red pepper; stir-fry until fragrant--about 30 seconds.
ADd in the bok choy; cook, stirring often, for 3 minutes.
Stir in the broth, soy sauce, sugar, and cornstarch; bring to a boil stirring constantly.
Cook 1 minute or until thickened.
Remove from heat and sprinkle with sesame seeds.