Stir Fried Pork With Broccoli and Cashews
gertc96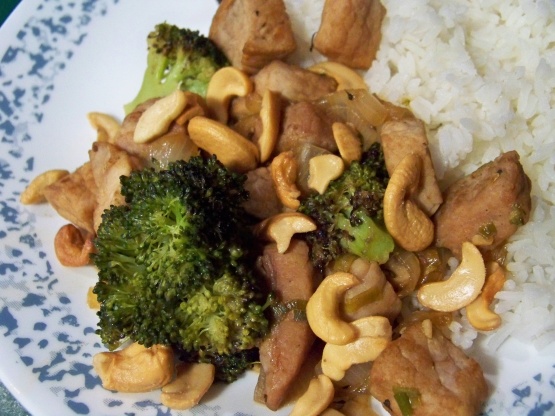 I found this several years ago in Cooking Light magazine and have modified it slightly to suit our tastes. It is one of my "go to" meals as it is quick, delicious and very figure friendly.

My meat was so tender and loved all the flavor. Added mushrooms that needed to be used. Will make this quick and easy meal many times again.
Spray non-stick skillet with cooking spray and place over medium heat.
Add onion and cook 8 minutes, stirring occasionally. Remove from pan and set aside.
Recoat pan with cooking spray and stir fry broccoli 3 minutes.
Add broccoli to onion.
Spray pan again and fry pork and red pepper for 4 minutes or until pork loses its pink color.
Reduce heat. Stir in the green onions, sugar, ginger, and garlic and cook 30 seconds.
Stir in onion and broccoli.
Add chicken broth and soy sauce.
Cook 1 minute.
Drizzle with sesame oil and sprinkle with cashews.
Serve over rice.