Stir Fried Oysters with Garlic
Parsley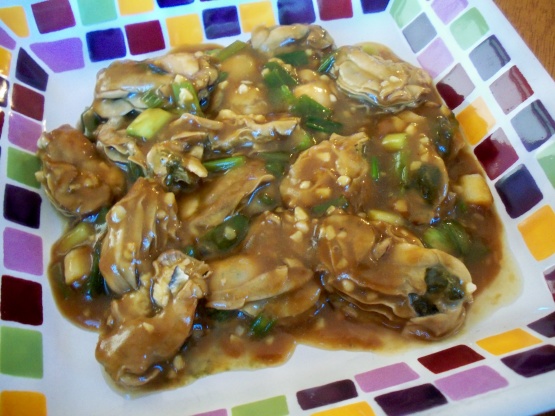 Love those oysters! This is a simple, fast and enjoyable recipe. Oysters have to be good for you because they sure do taste good!!

I love oysters and I like different ways to make them. This recipe was terrific. The sauce was perfect in flavor and texture. The previous reviewer mentioned they'd leave out the corstarch, but I think that reviewer missed the part about using 4 tbsp of water (because the water isn't in the ingredient list but it is in the directions). If you skipped the water, the sauce would be way too thick. I enjoyed these oysters very much and will use this recipe again. Thanx!
Boil 4 cups water in pot and add oysters for 10-15 seconds .
Remove with slotten spoon to paper towels to drain.
Blend cornstarch with 4 Tbs water and add oyster and soy sauce.
Heat oil in wok, add wine, oysters, green onion& ginger.
Stir fry 15 seconds.
Add cornstarch mixture and stir fry 1 minute.
Enjoy.