Stir-Fried Lamb With Spring Onions
Satyne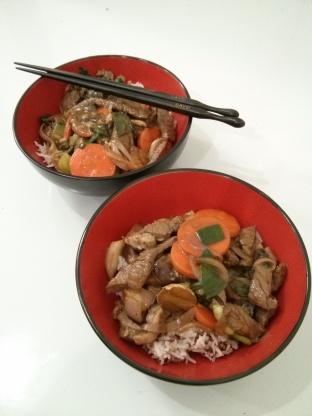 The DH asked me to save this recipe here for safe keeping, it is from a recently purchased cookbook entitled Chinese Cooking Made Easy. Times are estimated and have not included marinating time or soaking time for the wood-ear. IMPORTANT NOTE - I have listed mushrooms dried as food.com would not accept dried wood-ear or cloud-ear which can be bought at specialist asian grocers.

Top Review by Satyne
This was delicious. We added a few extra veggies and were unable to get our hands on yellow bean paste, so we used a combination of 1T Sweet soy sauce, 1T Oyster sauce 1/2T bbq sauce and a few drops of some lychee chilli sauce that was on hand. The instructions were easy to follow and the meat came out beautifully, thanks for a great meal. Made for Photo Tag Fall
Slice lamb thinly.
Make up a marinate with the sugar, soy sauce, wine and cornflour paste and add the sliced lamb and marinate for 30-45 minutes.
Soak the mushrooms for 25 to 30 minutes, then chop them into small pieces with the spring onions.
Heat the oil in a preheated wok until hot and stir-fry the meat for about 1 minutes or until the colour changes and then remove with a slotted spoon and drain.
Keep about 1 tablespoon (15ml) of oil in the wok and then add the spring onions, ginger, mushrooms and yellow bean sauce and blend well, then add the meat and fry for 1 minute more and then sprinkle with the sesame oil and serve.