Stir Fried Green Beans With Sprouts and Cellophane Noodles
chia2160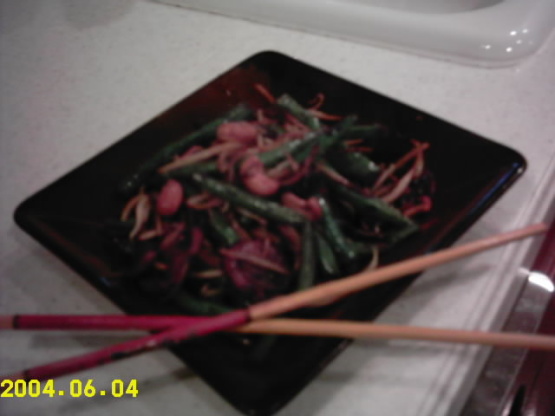 i made paula g's green beans with cashews, divided it after it was done and came up with this recipe for those in my family that like spicy oriental style dishes. you can add shrimp, etc to make this a main dish meal.

I modified the ingredients a little, but made the sauce the same. Left out the mushrooms out of family preference and the noodles just because I was looking for a veggie side dish. My six year old ate three servings (large servings). Very very good, definitely a keeper. Thanks chia!
in a bowl of very hot/boiling water, let cellophane noodles sit for 10 minutes.
blanch green beans in boiling water, or microwave on hi for 4 minutes, drain and refresh with ice water to stop cooking.
drain noodles, season with sesame oil, set aside.
heat a skillet on high, add oil.
add onions or scallions, cashews, garlic, ginger and mushrooms.
saute for a few minutes until cooked.
add green beans, stir, cook for 5 minutes.
add oyster sauce, sambal olek and soy, stirring.
add bean sprouts,stir for 2 minutes.
add cellophane noodles, stir well, remove from heat, serve.