Stir-Fried Green Beans With Pine Nuts
Carianne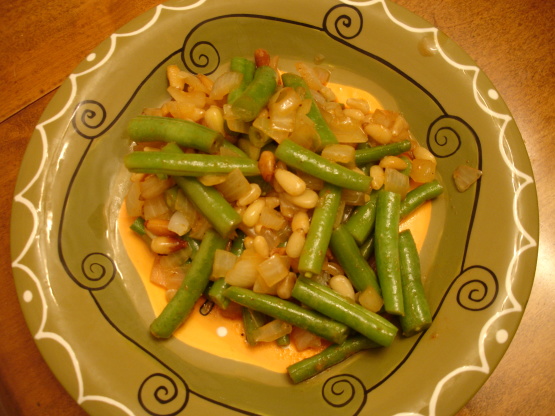 Stir-frying leaves green beans wonderfully crunchy, and the addition of pine nuts adds even more crunch! From the cookbook Lean and Luscious and Meatless.

Easy and very tasty Asian side dish! I didn't steam the green beans (after adding the soy sauce and water) quite 5 minutes...I like my beans crisp-tender. Thank you!
Heat oil in a large nonstick skillet or wok over medium-high heat.
Add green beans, garlic, onions, and pine nuts.
Cook, stirring constantly with a tossing motion, 5 to 7 minutes, until onions start to brown.
Stir in soy sauce, pepper and water.
Reduce heat to medium-low, cover, and cook 5 minutes, stirring once during cooking time.