Pam-I-Am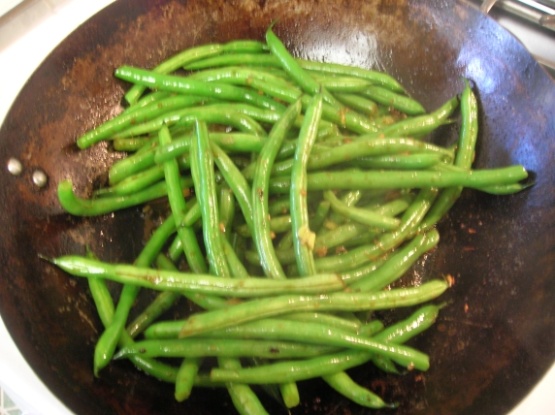 This is a Very Good Stir-Fry Green Beans Recipe for Diabetics, But, can be used by anyone.The recipe comes from Splenda.

These were absolutely delicious! I used a chopped shallot in place of the ginger and scallions (none on hand) and chicken broth in place of the water when stir frying. The sauce was thick and tasty. I sprinkled toasted sesame seeds over the whole thing before serving and served with sweet and sour chicken and steamed rice. Great meal!
Stir-Fry Sauce: Combine the stir-fry sauce ingredients in a small bowl.
Set aside.
Stir- Fry: In a large skillet or wok.
Heat the oil and stir-fry the green beans,until they are barely crisp-tender, about 2 minutes.
Add water and continue stir-frying for another 2 minutes, until the beans are crisp-tender and the water has evaporated.
Add the sauce and continue stir-frying for 5 or 6 more minutes.
Until the beans are tender,BUT, not over cooked.
Serve immediately.