Stir-Fried Garlic Chives With Chile
Ms B.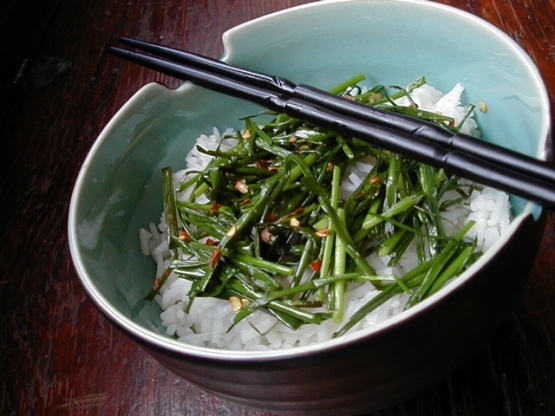 From the epicurious.com website (and originally published in the August 2005 issue of Gourmet). This is a simple recipe that makes a nice side dish, or stir in your favorite shrimp for a full meal. (I like to use leftovers of my Chili's Spicy Garlic & Lime Shrimp Chili's Spicy Garlic & Lime Shrimp.) Cook time does not include time to cook rice.

very very very very very very gooood!!!!!!!!!
1

tablespoon peanut oil

4

cups garlic chives, cut into 1 1/2-inch pieces (also called Chinese chives, flat parts only)

1

teaspoon hot red pepper flakes
1⁄4 teaspoon salt (to taste)

2

cups white rice, cooked
Heat wok over high heat until a drop of water vaporizes instantly upon contact.
Add oil, swirling to coat wok evenly, and heat until hot and just smoking.
Add chives and red pepper flakes and stir-fry, letting chives rest on bottom and sides of wok several seconds between stirs, until chives are tender and slightly browned, 2 to 4 minutes.
Stir in salt.
Serve over rice.