Stir-Fried Flank Steak With Tomato Onion Jam (Peruvian)
Prep 15 mins
Cook 15 mins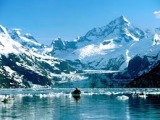 This is a Latin-style steak stir-fry. It's quick and rustic. It can easily be adjusted to serve more or less people. Recipe courtesy of Ingrid Hoffmann!
Directions
Heat the oil in a large wok or skillet over medium-high heat. Add the steak and stir fry until it is browned on all sides, about 8-10 minutes. Transfer steak to a plate and set aside.
Add the onion, tomato, garlic, salt and pepper to the same skillet and cook until the onion is soft and the tomato starts to break down, about 2-4 minutes.
Return the beef to the skillet and add the soy sauce and vinegar. Cook 1 minute, season with salt and pepper to taste and serve!
Most Helpful
This is a quick version of lomo saltado, which we enjoyed. They are usually served over rice and french fries - we chose to bake some fries and have them on the side, so they would stay crispy. The only departure we really made to the recipe was to halve the meat, since we like lots of veggies in our dishes. There are all kinds of variations on the sauce you add to lomo saltado, so you certainly could add cayenne to make it spicy (or the more traditional aji amarillo, if you can find it), paprika, lime, etc. This is even versatile enough for vegetarians - they can substitute portabello mushrooms for the meat (I have made it with them in the past with great success).

Very quick and easy - the prep time was more like 5 minutes than 15! Lovely twist, not your usual Chinese Takeaway style stir fry. I'll definitely be making this again!