Stir-Fried Chicken With Mango and Peppers
Lazarus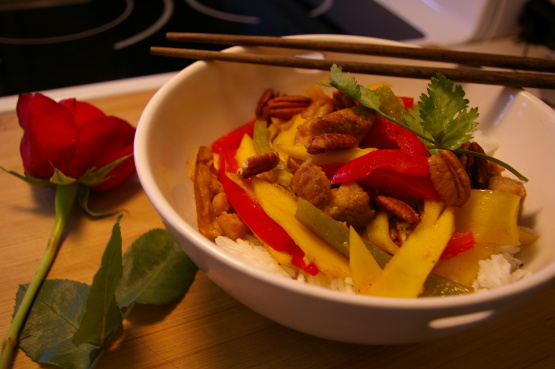 This is from HeartSmart Chinese Cooking, by Steven Wong. Every single recipe in this book is delicious, and since I can't post them all, you should just buy it. The recipes are great because they taste authentically Asian, but are a lot lower in fat and salt than a lot of traditional recipes. Prep time includes marinating time. Can be served over rice, but I find it's a filling meal in itself.

This was delicious and going to be repeated. The only suggestion I would make is to double or even triple the sauce. I also used about half of a red onion sliced thinly vertically as I didn't have a shallot and I think I would do that again. I also added a little dry sherry to the marinade. Even though I made a few changes I still felt this recipe deserved the 5 stars. I will be moving this to my "Tried and True" folder. PS I did buy the book, used, online - looks like there are quite a few wonderful recipes.
Mix the marinade ingredients in a bowl.
Put the raw chicken in and let it sit for half an hour.
Mix the sauce ingredients in another bowl and put aside.
Break off the star arms of the anise and throw away the middle.
Carefully press between your fingers until you hear a crack.
In a non-stick frying pan or a wok, heat the oil and the star anise on high heat.
Put in the chicken and stir-fry for about 4 or 5 minutes, until the chicken is opaque.
Put in the pepper slices, ginger, garlic and shallots and stir-fry for another minute.
Put in the sauce ingredients and stir to mix until it thickens a bit.
It should take about another minute.
Add the mango slices and mix gently until they're warmed through.
Garnish with the pecans and cilantro and serve immediately.