Stir Fried Chicken With Cashews
vrvrvr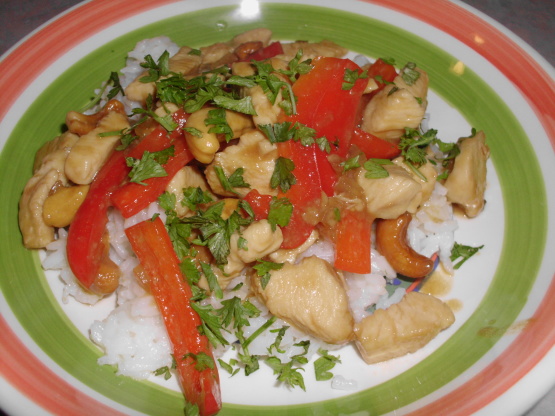 Adapted from a 1973 book called "Chinese Cookery"
In a large bowl, combine cubed chicken, ONE tablespoon of cornstarch, and TWO tablespoons of sherry. Mix thoroughly.
Mix soy sauce, sesame oil, sugar, broth, and remaining 1.5 tbs sherry. Set aside.
Heat 2 tbs vegetable oil in a wok or large skillet. Add chicken and stir fry until lightly browned. Remove chicken from pan.
Add the rest of the oil to pan. Stir fry the onions, garlic, and ginger root. for about 1 minute. Add cashews and stir to coat.
Return chicken to pan and add soy sauce mixture. Bring to a boil and stir in the cornstarch mixture to thicken.
Serve hot.